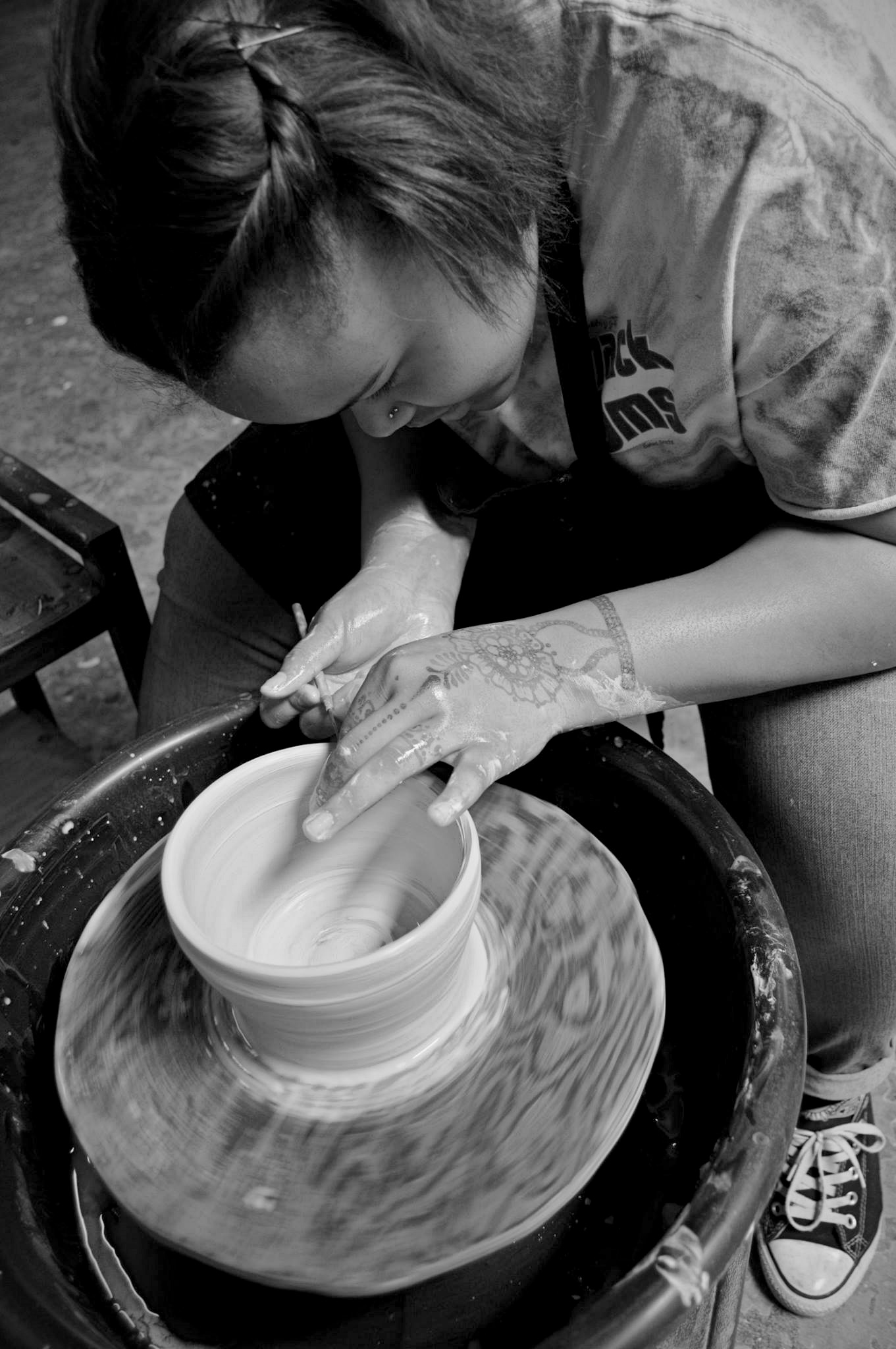 INTRO CLAY CLASS STRUCTURE
Each class is two hours in duration, and it starts with about (35) minutes of instruction. The instructor guides you through some basic sculpting and hand building techniques and then walks you through a detailed step by step wheel throwing demonstration. Once the demonstrations are complete the studio, tools, and equipment are yours to use to create pieces of your choice, as there are no required projects. Students work on a rotation through the wheels and large worktables to create both wheel thrown pieces and hand sculpted pieces. The instructor is there throughout the process for guidance along the way as needed.
PLEASE NOTE: Pieces cannot be fully completed in one class so because of that you will not have anything to take home after the first class. Creating with clay is a process in which requires (2) kiln firings. A fired, completed hand-built piece will take (2) classes and a completed wheel throw piece will take (3) classes. When signing up for your next classes, please allow (2) weeks in between classes.
NEXT STEPS: To fulfill the next steps on your pieces just sign up for any of the "Intro Clay Classes," that work best for your schedule. In your second and third classes we will walk you through the trimming and glazing demonstrations.
WHAT IS ''THE BLACKLIST"
The Blacklist class is essentially a (3) hour open studio session. It is not an experience level class as it is geared for folks of all skill levels that want a space to practice and create. For those who have previous ceramic experience, we ask that you come to at least one of our "Intro Clay Classes" before attending a "Blacklist" class so that you can get a feel for our studio, how it runs, and the systems that we have in place. For those with little to no experience we ask that you take a couple of our "Intro Clay Classes" prior to taking a "Blacklist" class so that you go through all the steps and know the basics, as there are no demonstrations in "The Blacklist" class.
PLEASE NOTE: This class comes with up to (10) pounds of clay and guaranteed at least (1.5) hours of wheel time. Our studio has (10) wheels and we book this class to no more than (18) people so that there is ample wheel time.
CLASS CANCELLATION POLICY
For class transfers we need at least (48) hour notice PRIOR to the class you are signed up for, or else you forfeit your space. We often have wait lists for our classes, so we need enough time to fulfill your cancelled space. No refunds are given for ticket purchases.
Sign up for your next class below
Just click "buy tickets" next to the class you would like to sign up for. Ticket Tailor will link you directly to PayPal where you can checkout either as a guest or with an account. Please feel free to contact us if you have questions or concerns. Looking forward to having you join us!
NO REFUNDS FOR TICKET PURCHASES